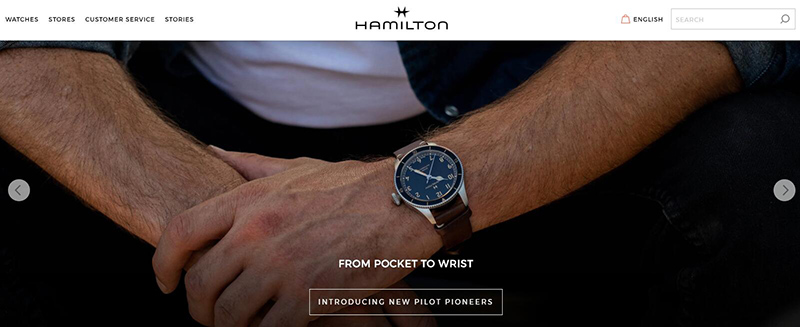 Hamilton Watch is a renowned brand which designs and manufactures watches in striking shapes and edgy designs. A leader in American styling, it offers innovative designs of timeless pieces that are made using sophisticated materials and will fit your bill perfectly. Choose from a range of automatic, automatic chrono, chrono quartz, digital, quartz and hand winding timepieces.

Automatic Watches as low as $575

Nato & Canvas Straps as low as $55

New Arrivals starting from $445

Military Watches as low as $495
What is the difference between a watch with an automatic winding, manual winding and quartz movement?
A mechanical movement is a micromechanical high precision instrument that takes its energy from a mainspring which is placed in the movement barrel. This mainspring is charged either by an oscillating weight that winds the watch mainspring as you move (automatic) or by hand (manual winding).
If you do not wear your automatic / mechanical watch for a few days, it will stop working and will need to be reset.
Quartz movements take their energy from a battery and a synthetic quartz regulates them.
All Hamilton movements are produced according to the strict quality standards of the Swatch Group.